History of this location
Ben Lomond Station is steeped in history of the Queenstown gold rush. Where ever we ride the evidence of these super resilient people surrounds us.
Owned by John and Ginny Foster and is one of the few high country stations owned and operated by New Zealanders.
Moonlight lodge will be our accommodation for the entire three nights of our trail.
There is a wonderful horse paddock in close proximity to the lodge.
Each of the double rooms has ensuites, with comfortable double beds or twin sharing.
The bunk rooms are very spacious, take a max of 5 and also have there own ensuite.
This location is fully catered by Ben Lomond Station with a bar available, we are therefore unable to bring our own alcohol into this location. The bar is well resourced, riders will need to bring cash to pay for alcohol should it be desired.
We are so lucky to have sourced this luxury lodge as normally, this is reserved exclusively for overseas visitors who generally fly in by helicopter.
A huge open plan lounge with large stone fireplace, fully glazed to view the breathtaking mountain ranges. Wild deer graze the gardens early evening and mornings.
Digital Detox
This is a super opportunity to take a digital detox as there is no Wi-Fi or mobile service available deep in the heart of the mountains.
Sustainable Accommodation
The lodge is totally off the grid with solar power, gas for cooking and a back up generator.
Cost Per Rider NZ 4440
Trail Details
4 days riding/3nights accommodation
Riders with good levels of fitness
From Queenstown (T & C's Apply)
Dates yet to be arranged.
Important Note:
Riders need to be in Queenstown the night before the trail to ensure that there are no holdups arriving at the trail
Pick up 9am >9:30am is in Queenstown either airport or Hotels
TRAIL TAXI 
Please note: Riders can drive to the start of the trail, you will need to be at the trail start at 10am.
Contact adventurehorsetrekkingnz@farmside.co.nz for the detailed location.
You will need to arrive in your riding clothes; we will transport your suitcases in my 4 wheel drive.
Please, could you make sure that the suitcases are small as there is not much room with all the other stuff I will be carrying.
Riding Day 1
5 hours riding
Kia Ora, Welcome to Breathtaking Ben Lomond Station
Meet your adventure horses who are saddled up ready for you.
We will aim to ride out no later than 10:30am.
Today we ride beside the river through Ben Lomond station which is privately owned, heading for our accommodation for the evening, Moonlight Lodge.
We pass many of the old buildings and gold claims utilized by the gold miners. You can feel their eyes upon you as you ride passed their claims.
Gold Fever
Gold was discovered in the Moke and Moonlight Valleys in 1862 and brought a flood of miners. Over 3000 people lived in the Moke and Moonlight valleys during the gold rush.
These rivers were some of the richest in the world – there are stories of the early miners pulling up several ounces of gold with every shovelful – thousands of dollars today!
(thanks to Ben Lomond Journeys for this information)
Riding Day 2
5 hours riding
Mountain Magic and Horse Happiness
After a hearty breakfast we ride out around 10am.
Today we are exploring the mountain ranges and heading out to the Ben Lomond back hut for lunch.
This station has so many locations that gold miners had claims and you can see the workings as we ride by. Evidence is all around us as wild oregano, beautiful black berries, wild goats and gooseberry bushes grow from the seeds that the miners brought with them to our land. Food and survival where paramount.
We are riding through New Zealand's living history and it is amazing to see.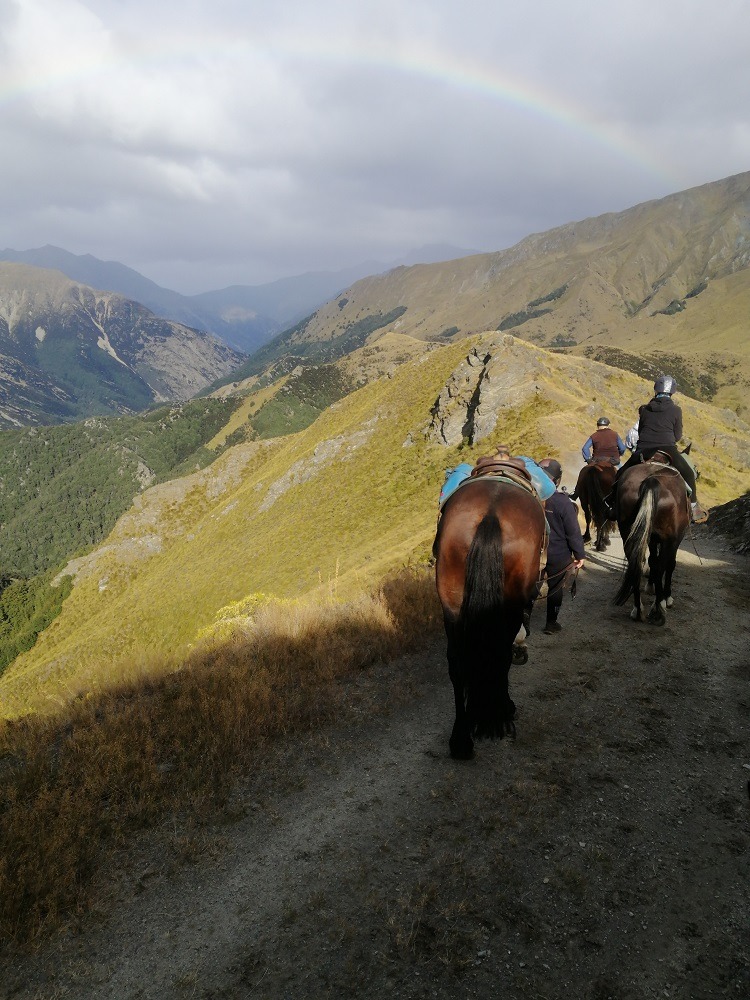 Riding Day 3
5 hours riding
Lets get lost in the love of Mother Natures gifts-
After a hearty breakfast we ride out around 10am.
Today we ride the mountain ranges heading to the high mountain peaks to enjoy lunch with an incredible view.
Mountain Magic exploring Ben Lomond Station, Queenstown NZ South Island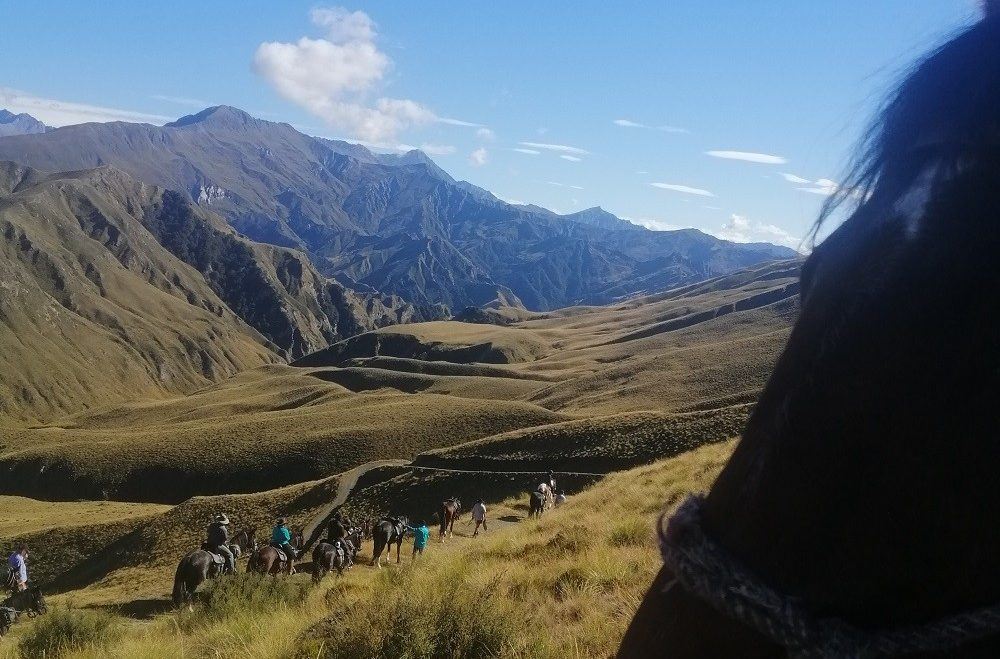 Riding Day 4
5 hours riding
Ride that River of Dreams
After a hearty breakfast we ride out around 10am.
Today ride along the river wandering back to Moak Lake riding a different route than that which we came in on.
As we follow the shot over river the mountains flank our trail, beauty surrounds us as we finish this amazing trail and head back into civilization.
Can you spot the horse and riders in this photograph?
If you love getting lost in nature this is your trail, I love the fact that we blend into the environment. Totally sustainable travel, maintaining the traditions of this historic location.
On arrival back at the station shearing shed, your taxi is waiting to return you to Queenstown airport
Adventure Horses, a part of everything without intruding on nature, Queenstown NZ South Island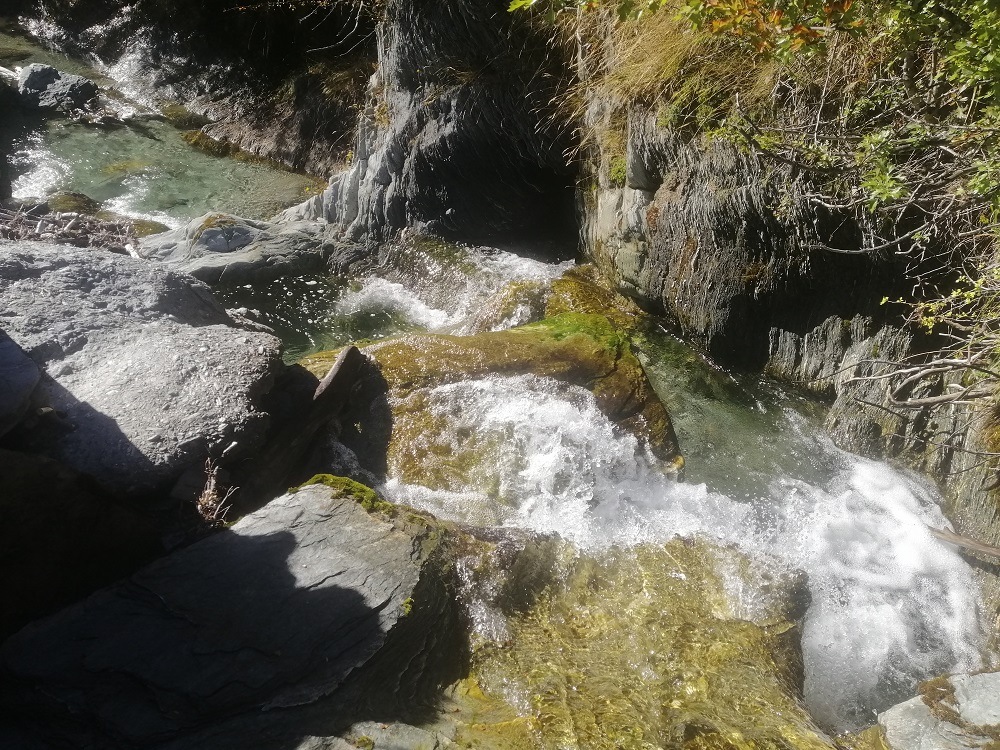 100% Pure New Zealand company with owners that ride beside you through this amazing wilderness