Flower Filled Fun…
Imagine being part of a phenomena that only happens once a year?
The springtime lupins that flower in the Mackenzie basin only last a short while yet they fill the environment with such beauty. To ride a beautiful horse through this sea of flowers, flanked by imposing, snow capped mountains is breathtaking. As though a giant has painted the landscape with blues and purples just for this short time.
The stunning Ahuriri river stiches the entire landscape together with its magic.
This trail is designed for riders who want to wilderness ride but have hot showers, flushing toilets, Wifi, comfy beds and TV in the evenings.
Suitable for riders with good levels of fitness who are wanting to get back into riding and the incredible beauty of Papatuanuku (Mother Earth) with her spring time flowers.
Accommodation is station, shearers quarters.
Ride a purpose bred horse through a sea of flowers
Cost Per Rider NZ 1,444.00
10 staged payment available on this trail
Trail Details
2 days / 2 nights
Beginner
Pick up from Queenstown
Upcoming Dates
14 – 16 December 2023 – 7 saddles remain
Important Note: Riders need to be in Queenstown the evening before the trail begins
Trail Taxi picks you up between 7:30am > 8am
TRAIL TAXI 
Forever Flowers
We are introduced to our adventure horses in the Lindis Pass.
You will be given your saddle bags which hold your camera, water bottle, additional clothing for the days ride, packed lunch.
Saddle up, our staff will check your saddles, stirrups, clothing suitability.
Then off we set to explore the base of the mountains and hunt out the lovely lupins on horseback.
This is a gentle days riding, no pressure and is a great opportunity to soak up the beauty of the mountains where we are riding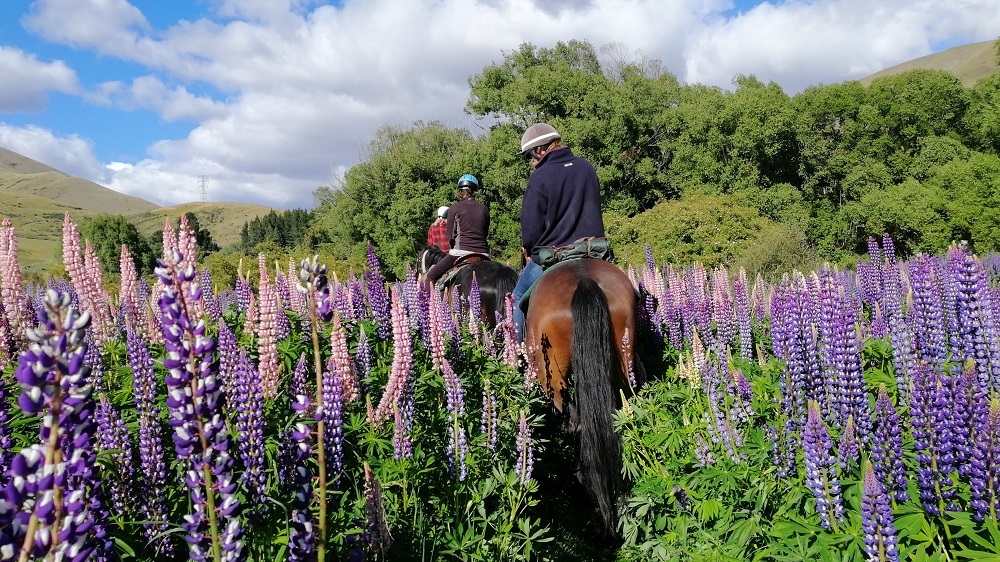 Horseback Heaven
Today we thread our way in and out of the stunning Ahuriri River filled with lupins, a bobbing mass of pinks, purples, white, blue, yellows. Make sure you wear your colours and don't forget to charge your camera because you will not want to miss a moment.
The heady scent fills the air as we head towards the "Clay Cliffs" in Omarama one of the wonders of this beautiful McKenzie district.
Our accommodation for this evening is shearers quarters, hot showers, lovely cook shop and dining room.
We can organise a visit to the Omarama hot tubs for you this evening if you would like to enjoy this
(there is an additional cost for the hot tubs)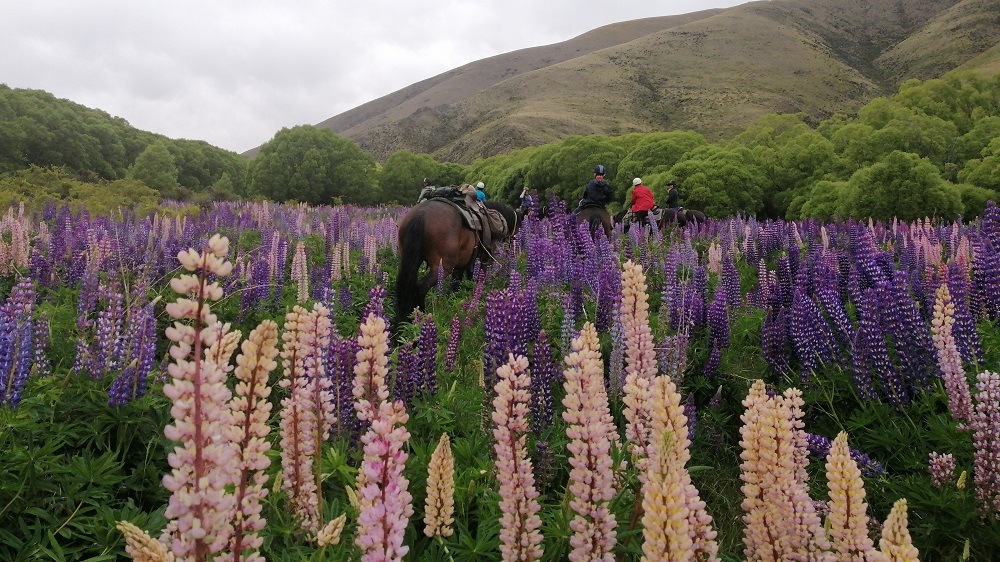 Heading Home with a Mountain of Memories
After a hearty farm house breakfast you will be collected by Mike and Hele our wonderful taxi drivers and returned to Queenstown.
9:30am pick up arriving Queenstown from 12:30 >13:00