Horseback riders who are looking for breathtaking beauty of 100% pure Aotearoa, New Zealand. Lake Hawea never fails to deliver with its turquoise depths reflecting the imposing mountain ranges that flank our trail.
With exclusive access to two iconic high country stations we share this isolated environment with wild deer, NZ falcons, Hereford cattle and sheep.
The Hunter River is a world renowned fly fishing river and if you bring along your fly rod and your license you can enjoy the evenings fishing whilst we cook your dinner. Sleep out under the stars and listen to the hunter river rolling by.
This location is second to none for its beauty this magnificent lake forged by Mother Nature millions of years ago.
Cost Per Rider NZ 3999.00
Trail Details
5 days / 5 nights
Suited to riders with good levels of fitness
Pick up from Queenstown (T & C's apply)
Upcoming Dates
2 – 7 November 2023 – 10 saddles available
19 – 24 April 2024 – 10 saddles available
Trail Taxi pickup is at 12:30 > 13:00 in Queenstown 9:30am pick up
TRAIL TAXI 
Meet your adventure horse team mate- 2 hours riding
Meet your adventure horse team mate and saddle up to explore the beautiful Hunter Valley Station for an afternoons ride.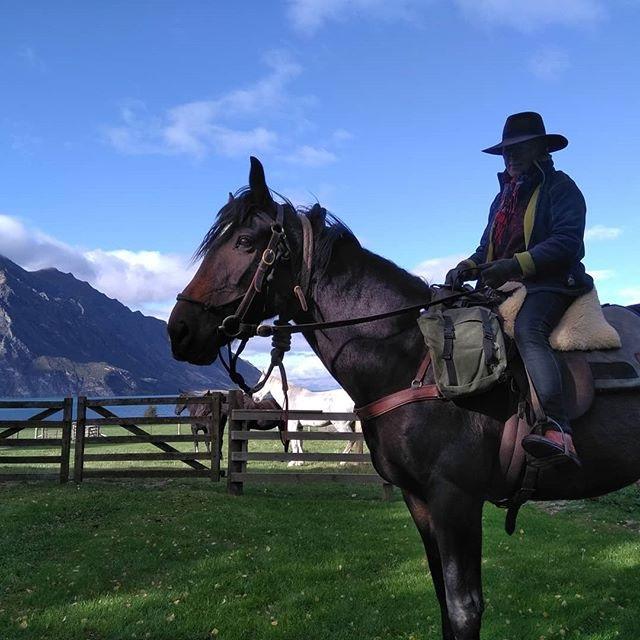 Ride into the heart of the mountains – 6 hours riding
Mounting our beautiful horses we ride around the edge of the magnificent Lake Hawea. Taking in native beech forests, water falls, crossing the glacial rivers that feed the lake.
As we ride we pass by many iconic old fishing cribs built by keen fishermen/women that frequented this location in search of trout and salmon.
Our accommodation this evening is a historic musterers hut with solar power and wonderful views nestled in the heart of the mountain ranges. Dinner is cooked on the open fire.
If you wish, you can sleep out under the stars without any light pollution affecting your view.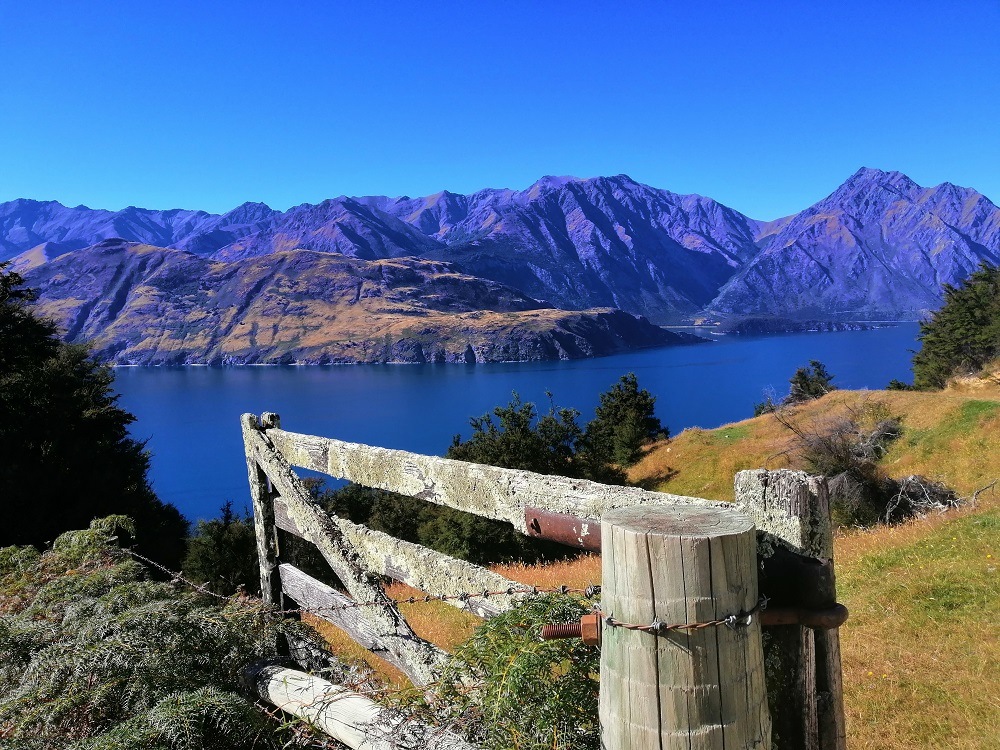 Lets explore that valley- 6 hours riding max
or
Enjoy a rest day to do what you want in this amazing location
Today riders have a choice of what they want to do, perhaps you want to go fly fishing or simply put your feet up and read a book. Your holiday, you choose.
For those who wish to explore on horseback today we will be riding deep into the Hunter Valley. Riding along the banks for the Hunter River as it meanders its way through the feet of the mountains. This turquoise braided glacial river is translucent allowing us to spy fish playing in its wavelets.
This really is a wonderful days ride that explores locations most Kiwis never take the time to see.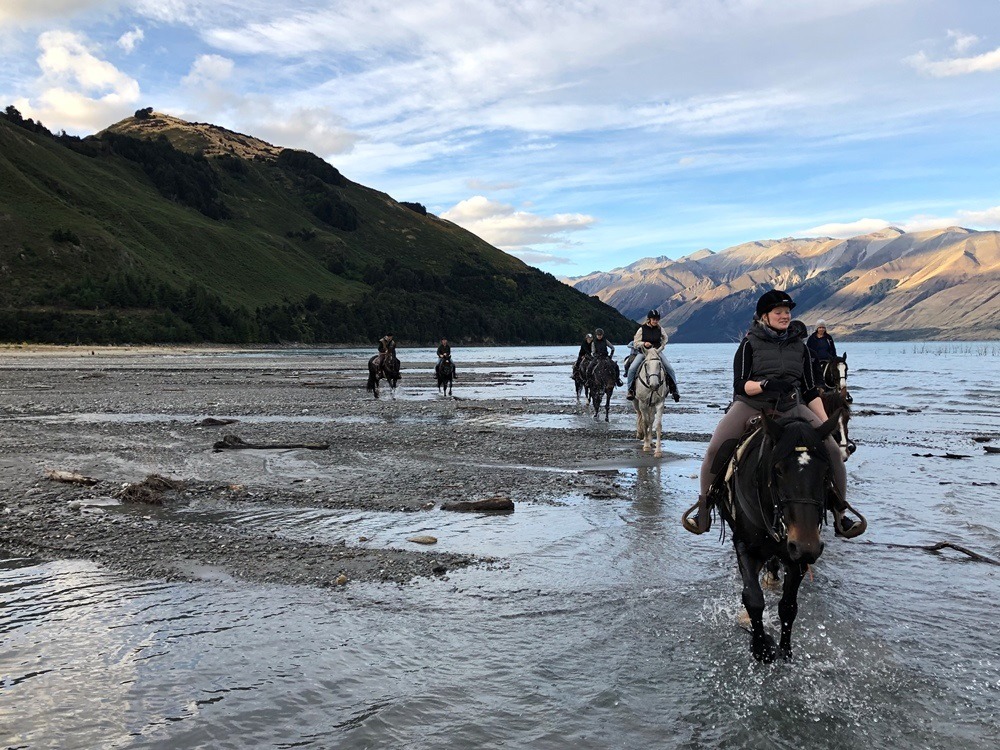 Ride that River, Love that Lake- 6 hours riding max
Today we cross the Hunter River and ride our beautiful horses into the Dingleburn Station, renowned for its fine wool.
As we ride today Lake Hawea changes colour so many times before our eyes, it is indeed a magical place to ride.
The Dingleburn station is managed by Sisters, Nikki and Bridget Mead.
Tonight we will stay at the shearers quarters powered by hydro generation. Hot showers, flushing toilets and soft beds await us along with a lovely big cook shop/dining room.
The Mead family are so welcoming and often one of them will pop in for a chat and guests have a chance to ask questions about the station.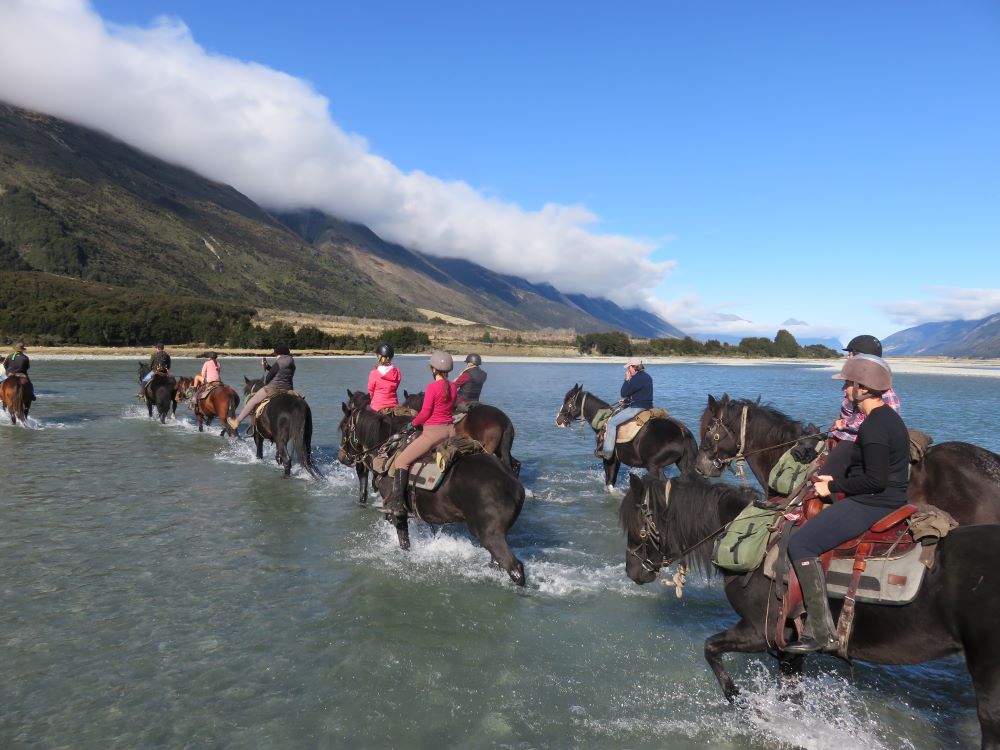 Enjoying the energy, riding the bluff- 6 hours riding max
Our final days ride sees us explore the edges of Lake Hawea and her raw unspolt beauty before lunch.
Then we saddle up and ride our horses through the Dingleburn Bluff, a true piece of Kiwi number eight wire engineering.
When the Government raised Lake Hawea in 1958 they left the Dingleburn Station with no access road. The then owners Mr and Mrs Sarginson decided that this was not going to stop them and Mr Sarginson, blasted a road into the side of the mountain.
We say goodbye to the horses at the Dingleburn cattle yards and head for the Lake Hawea Hotel for an evening of laughter looking back across the beautiful Lake Hawea and the trail that we have ridden over the last 5 days.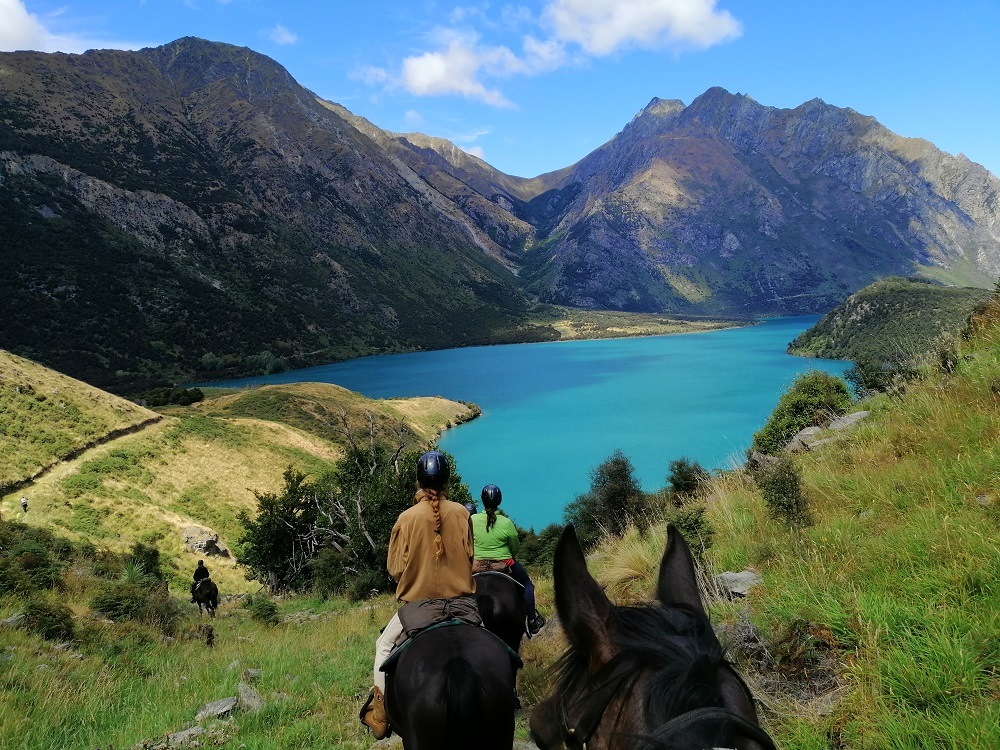 Forever Friendships and Memories Made
Saying goodbye and heading homeward bound with a heart full of wonderful memories