Ride a beautiful horse through the hidden trails in Southern Alps NZ
Horseback Holiday that global riders have compared to Mongolia, Patagonia and the Colorado Mountains.
Team up with a beautiful purpose bred horse and ride far from the tourist routes. Deep into the heart of the wilderness on the high mountain peaks of the Southern Alps NZ, along forgotten pack trails of yesteryear.
Accommodation is historic musterers' huts, cottage and homestead, tents are utilized at some locations.
Transfers to/from Queenstown airport are included (T&C's apply)
Farm fresh food with recipes from the high country we ride through.
Treat yourself to a great digital detox under star filled skies and a heart full of mountains.
Leave the tourist routes far behind and explore 100% pure NZ
Cost Per Rider NZ 4440.00
Trail Details
6 days riding 6 nights' accommodation
Intermediate to advanced
Pick up from Queenstown
Upcoming Dates
26 – 3 December 2023 – Fully Booked "Thank You"
22 – 29 March 2024 – Fully Booked "Thank You"
Our trail taxi picks you up between 12:30pm >13:00
TRAIL TAXI 
Meet at 2:30pm St. Bathan's Station, Central Otago – 2 hours riding 
Your Boutique Horseback Holiday begins at the picturesque St Bathan's Station at the foot of the mountain ranges. Here you will meet your adventure horse team mate and guides.
Note: Come dressed ready to ride as we are heading straight out on the trail.
2 hours riding_ Your luggage will be taken to our accommodation for the evening. We will then introduce you to your adventure horse that will be saddled and ready for the afternoons ride at the beautiful St Bathan's Station. This is to ensure that we have a happy relationship between horse and rider.
We explore the beautiful St Bathan's Station, often the shepherds are working flocks of sheep with their dogs. It is great to peep through the window of high country life and we are ever grateful to Don for sharing his amazing location with us.
Horses and Pack horses head out from the Vulcan Hotel, in historic gold mining town St. Bathan's Central Otago
6 hours riding– River, how I love to ride beside you.
Saddle up our horses and enjoy a spectacular views from horseback as we crisscross the Dunstan River 24 times.
See the water races that gold miners constructed in the 1800's when this historic gold mining area was filled with hopeful prospectors.
Like 100's of musterers' before us we ride our horses through 2 iconic high country stations today.
St. Bathan's Station and Dunstan Downs Station.
As we ride up the valley the majestic mountain they call "Old Man's peak" stands before us (waiting for us to conquer the following day) "Aotearoa" New Zealand's highest stock route at just under 6000 feet above sea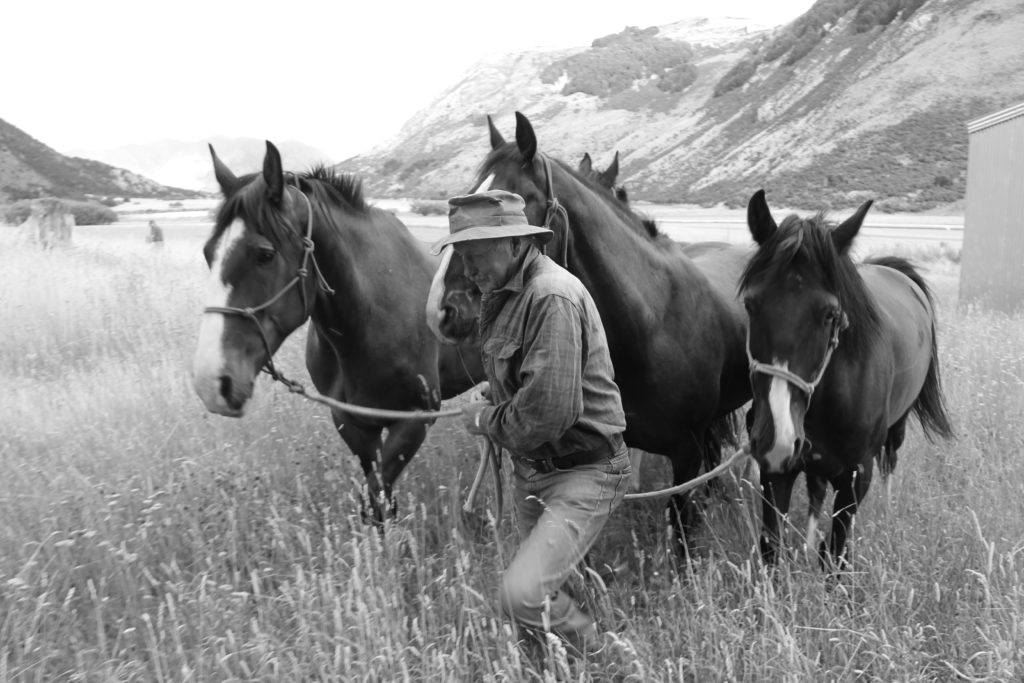 8 hours riding_ Horse, Let's Summit those mountains together
Today we summit our first mountain on horseback, like a horse rider in "Lord of the Rings" or "Mulan" our horses carry us to 6000 feet above seas.
From the summit of the highest stock pass in New Zealand, on a clear day you see the four of the highest Mountains in New Zealand's South Island.
Aorangi (Mount Cook), Mount Aspiring, Mount St. Bathan's and Mount Tutoko
The vista includes lakes Dunstan & Pukaki, weather permitting.
Today you will feel like a rider in "Middle Earth" on your own quest. This is just the beginning of the incredible sights we will share with our adventure horse team mates.
4 hours riding_ Mountains, you are the magic my soul is made of
After yesterdays long day in the saddle, this is a shorter days riding to enable the riders and horses to rest before tomorrow's stunning and dramatic ascent to the top of Mount Prospect.
Today begins with an hours walk descending from the Lindis Ridge. Lunchtime sees us at the side of the Lindis River where the horses enjoy a good graze and nourishing drink from the cool glacial waters.
This afternoon's ride is through farmed New Zealand high country with Merino sheep, wild deer, and native falcons.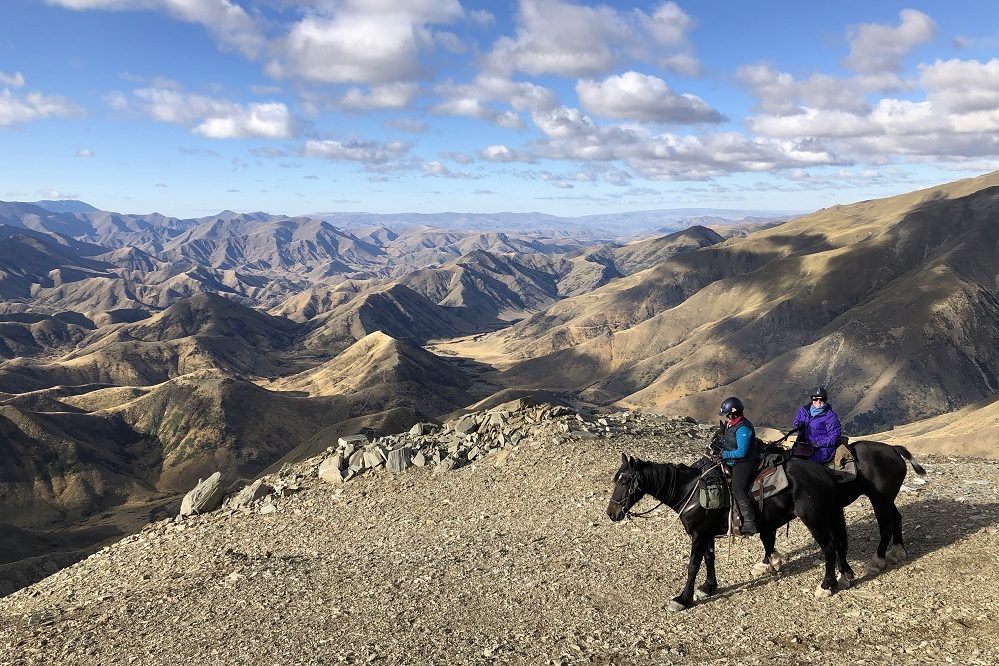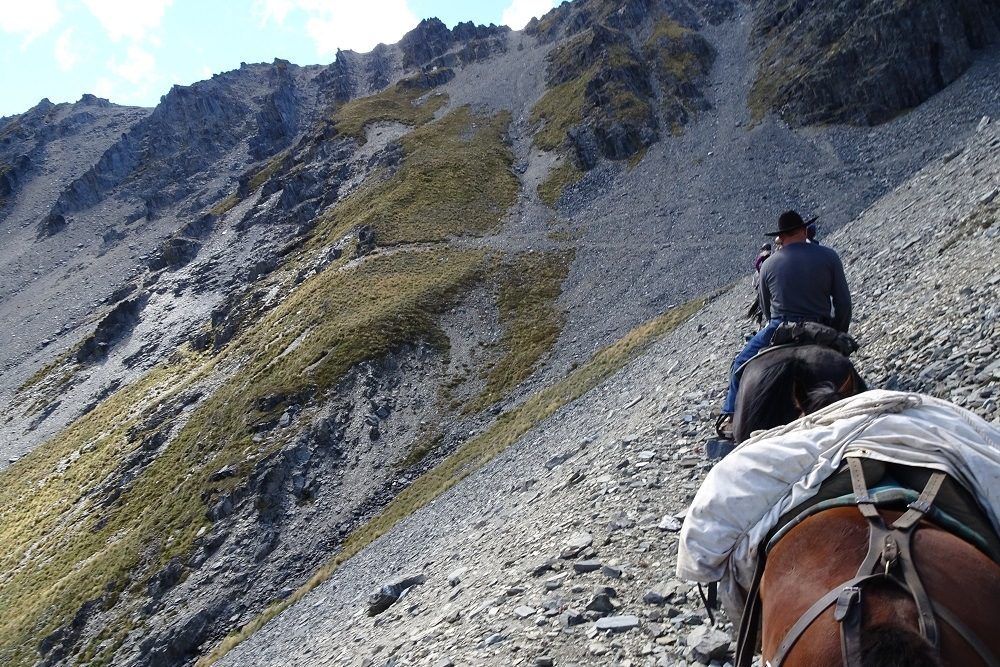 5 hours riding_ Nature, my senses are alive with your beauty
The scenery today is outstanding, mountains spread out before us we can see the St Bathans ranges that we rode only a few short days prior. You will be amazed at the distances we cover on horseback. This is where our adventure horses come into their own; sure footed and kind they dig into the mountain passes carrying you into dream locations others rarely see. For those riders who enjoy walking and observing Alpine plant life, this is a great opportunity to do so. This location is filled with unique New Zealand flora and fauna, flanked by the Southern Alps
4 hours riding_ Horse, with you by my side I know I can achieve my dreams
Today is one of the trail bosses favorite days riding; enjoy a day filled with mountain scenery on horseback, second to none in the world. Our global riders have told us this far surpasses anything they have ridden in the world (without the worry of grizzly bears or mountain lions).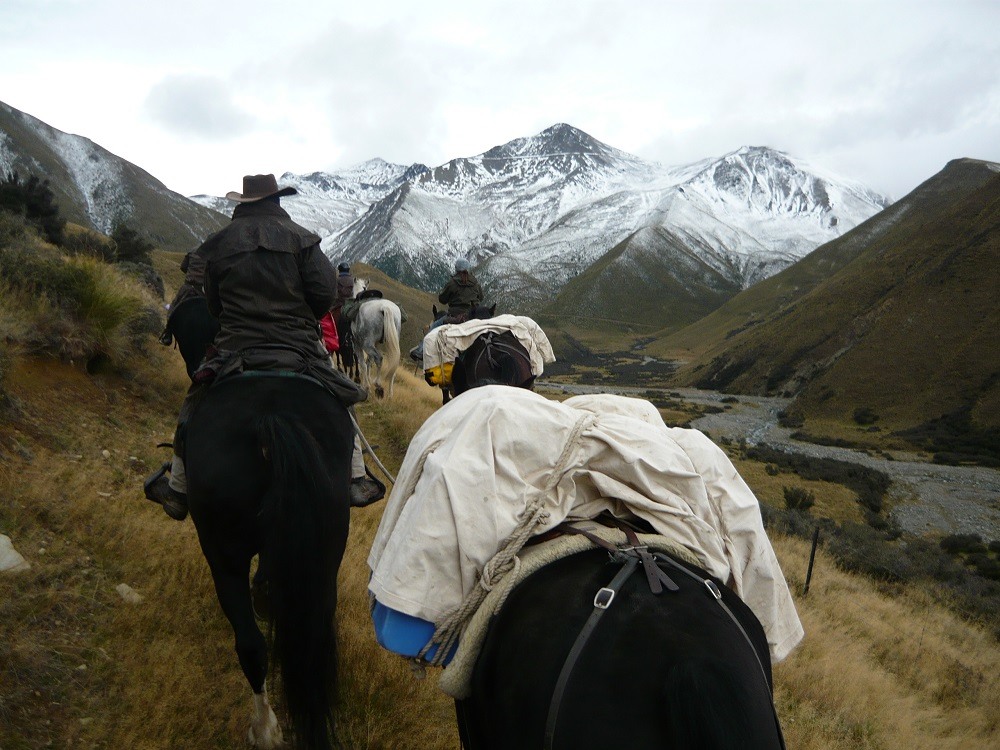 5 hours riding_ River, your braids of beauty play my heart strings
Today we will enjoy views of the Ahuriri conservation park riding close to the Ahuriri River crossing many small streams. This is Merino sheep country whose fine wool has made New Zealand famous. Often the station is mustering the sheep whilst we ride through which a wonderful site to see, shepherd and his dog is working together.
Tonight we are staying in a beautifully restored historic homestead deep in the heart of the Ahuriri conservation park. We celebrate our final evening together, share a farm house dinner and the stories from the trails we have ridden. Sing to the ukulele around the fire in the lounge snug or simply snuggle up with the book.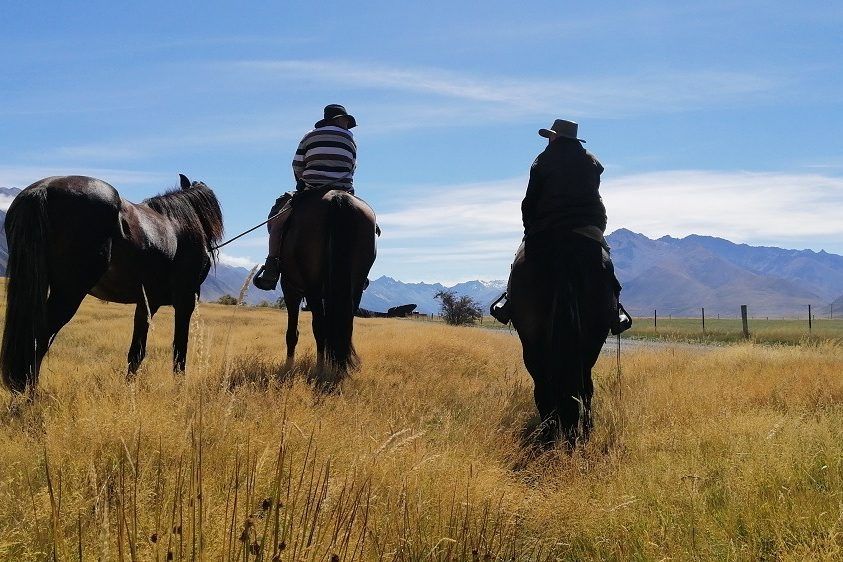 Final day, May the memory of the mountains and the love of your adventure horse ever be in your heart
after breakfast you will be picked up by our bus and returned to Queenstown Airport or your accommodation.
Pick up 9:30 am reaching Queenstown Airport 1 >1:30pm depending on traffic/weather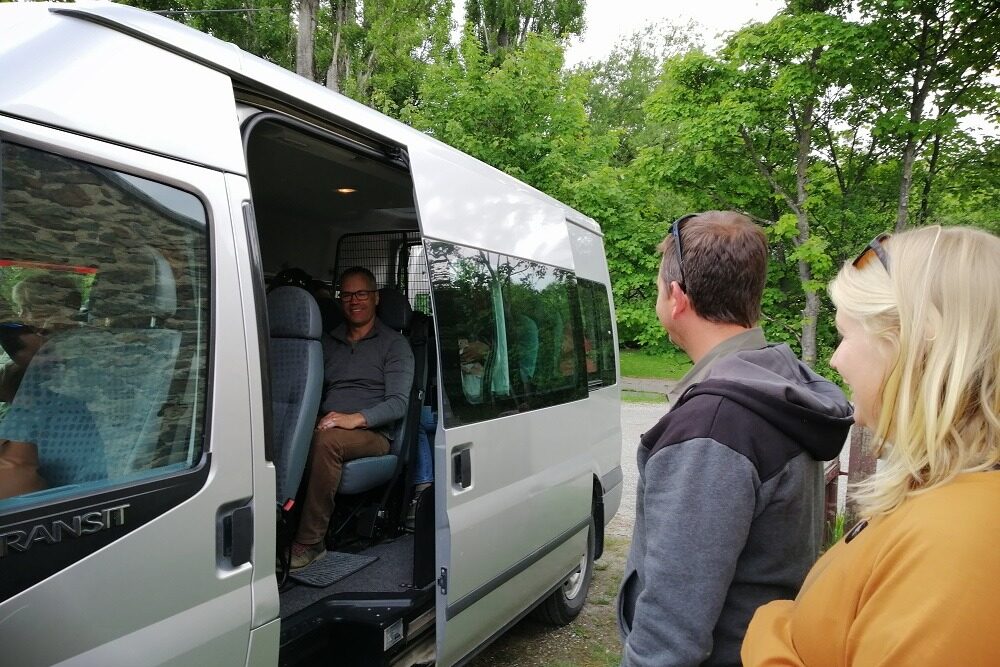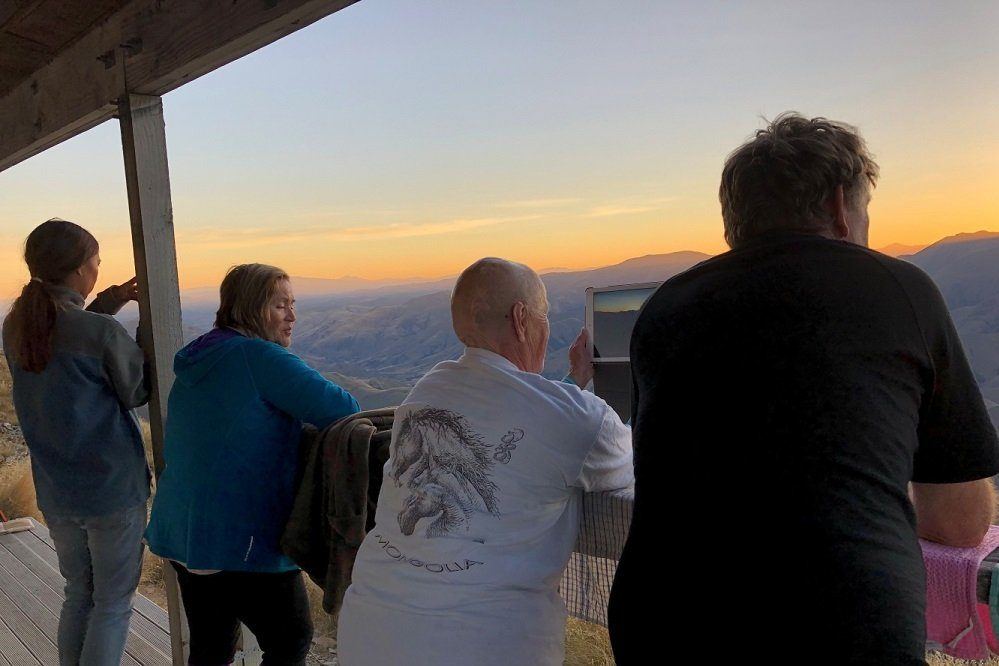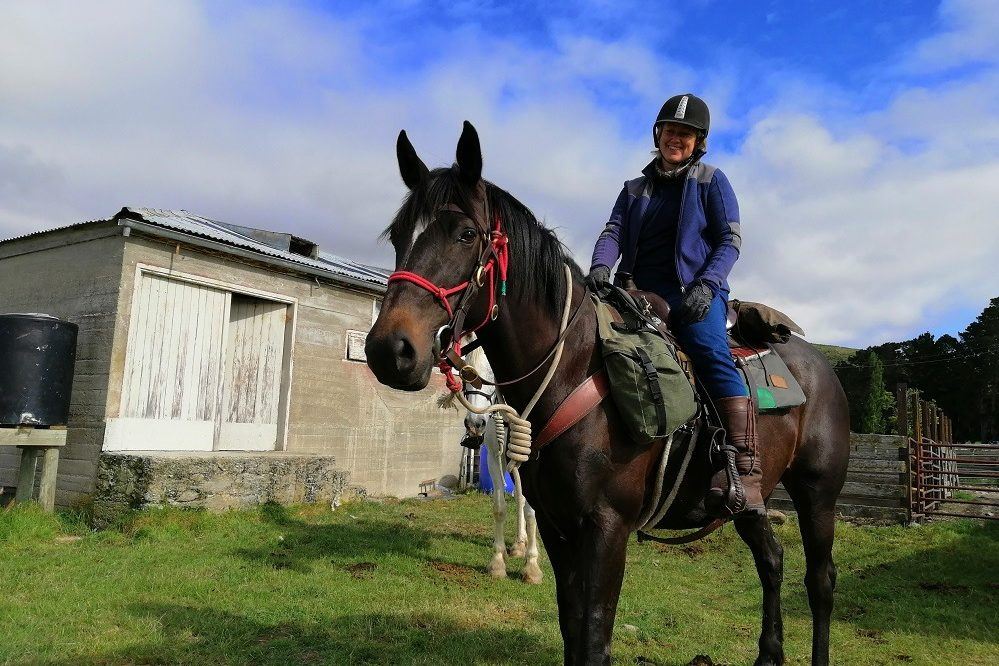 I have just finished the Twin Lakes ride and what an adventure. The beauty of the South Island is unbelievable and to be able to ride over some of the most amazing stations in the South and see these beautiful lakes, mountains and farms is something I will never forget. If you are considering a Horse Riding holiday then I would highly recommend Adventure Horse Treks , the horses are amazing to ride. Angie & John are very professional and took great care of everyone, I felt completely safe on there horses for 8 days. Angie the food was amazing and I am still not sure how you did all that work , but after finishing a 6 hour ride and walking into a place with the fire roaring, cheese board and wine waiting made you feel like you are home. Thanks for allowing me the opportunity to see this beautiful country on the back of a horse, for your kindness, humor, knowledge and care.
Start to finish this adventure was amazing! John Angie and El you were kind, fun, competent and patient. A great team. The horses were next level - beautiful animals. Scenery - stunningly wow! Food - the best! It was an absolute privilege being amongst this unforgettable place. Till next time .. thank you so much x
I have just completed the boutique birchwood trek. It was an experience I will never forget. Super scenery, friendly banter, amazing food, caring guides and gorgeous gentle horses. I felt very lucky to be on the trek and have the opportunity to share the experience with such a wonderful crew. Thanks so much Sharon
Sharon Pickering
29/03/2021
I just got home from the birch wood ride. Had a wonderful time. Great, dependable horses, lovely hospitality, awesome baking, beautiful scenery. Angie and Jon are welcoming and will take great care of you. It is a walking ride (i hadn't realised that) but was very relaxing. I would definitely ride with them again.
An amazing week (so amazing that we ran out of descriptions and superlatives!): wonderful horses, fantastic people, incredible scenery an adventure that was great fun and we that did not want to end 🙂
I was a first time trekker on the 2021 Otago Goldfields Cavalcade with Angie and John & the horses. What a wonderful wonderful experience ❤ oh mi gosh. John and Elle looked after us on the trail, Angie saw us off at the start and met us at the end, six days later. The horses were amazing. So calm so capable, what a trip! I will be back for another trekking adventure....annually 🤠🤗
Lu Marii-Metuarii
16/03/2021
I have just finished the Prospectors' Dream Trail with Adventure Horse Trekking. I cannot recommend them highly enough. From the time the booking was made AHT provided all necessary information in terms of what to pack and what to expect on the trek. The horses were wonderful and never put a foot wrong. As a relatively novice rider I felt very safe and well looked after by my horse Dude and the expert guidance of the boss John and the extremely nice and hard working wrangler El. The scenery was amazing, food of a high standard (including cheese and crackers and a wine and beer in the back of beyond), and the fellow riders were excellent company. Lots and lots of great times and much laughter and bad singing. I would highly recommend Adventure Horse Trekking.
What a wonderful experience - amazing horses, spectacular country and fabulous hospitality. Absolutely recommend!
Thank you for another amazing trek John & Angie. Such a privilege to see this amazing part of the country on board the beautiful Breeze. I feel thoroughly spoilt and highly recommend your treks to anyone looking for an adventure of a lifetime XX
Fantastic hosting, scenery and horses. John and Co made us feel part of the family. Interesting and challenging tracks combined with bullet-proof horses made this a memorable experience. Did I mention the rhubarb crumble? It's worth coming just for that. Recommended. Cheers Marc