South Island NZ Horseback Riding Holiday_10 fun filled days
Queenstown Lakes District heralds stunning views and breathtaking locations.
This trail begins on the banks of the stunning Lake Hawea and ends deep in the heart of the NZ South Island mountain ranges of the Ahuriri Conservation Park.
Riders will feel like they are stepping straight into a movie set of Lord of the Rings.
Star filled endless skies, icy glacial lakes and rivers and imposing mountain ranges will fill your heart.
Only 2 days of internet /Wifi services available at Hunter Valley Quarters and the Lake Hawea Hotel. For most of this trail, it is
a great opportunity to do a digital detox.
Cost Per Rider NZ 6,888.00
Includes free Wanaka Winery Tour
Trail Details
10 days 9 nights
Competent Riders with good levels of fitness
From Queenstown (T & C's Apply)
Upcoming Dates
2 – 11 November 2023 – Fully Booked "thank you" group booking
19 – 28 April 2023 – 2 Saddles available
Trail Taxi team pickup in Queenstown 12:30 > 1pm 
TRAIL TAXI 
Team Up with your Adventure Horse
Imagine riding a beautiful horse into stunning views of the enchanting Lake Hawea, Mount Aspiring, Hunter Valley, Ahuriri Conservation Park and surrounding mountain ranges.
Exclusive access
To 2 privately owned iconic high country stations.
Important Note: This trail is unique in that at times we utilise pack horses and others the trail is serviced with a 4 wheel drive vehicle. In both cases we will be utilising the "blue bags" for the three out of the 5 days trail.
Pick up in Queenstown is between 1pm & 1:30pm
Arriving at Hunter Valley for 3:30 pm start – 2 > 2.5 hours riding (this may vary depending on weather or station activities (mustering cattle or sheep)
Our adventure begins at Hunter Valley shearer's quarters.
You will be introduced to your adventure horse team mate, this afternoon. Horses are saddled and ready to go, we are fitting equipment to your needs, adjusting stirrups, attaching saddle bags, 
Listen carefully to our trail boss/ head wrangler at this time as they will give you tips about your specific horse. Our horses live and work in a herd environment and it is important to observe the herd hierarchy. (Learn more about our horses)
This is an important time, ensuring that everyone's riding abilities match that of their adventure horse team mate.
This is a good time to raise any questions you may have about your gear or your horse team mate.
Each of our horses has a unique personality that I am sure you will fall in love with.
We enjoy and afternoons ride beside the picturesque Lake Hawea.
Returning to the shearer's quarters for our evening meal and overnight stay. The quarters enjoy
hot showers, flushing toilets, TV room and electricity with comfy beds.  The deck looks out of the picturesque lake and old rustic farm buildings. This is a great opportunity to get to know one
another before our adventure begins.
There are some lovely walks around the lake if you so desire
after dinner or you could just enjoy a wine sitting on the deck soaking up the
view. There is an opportunity to chat to those who live and work on Hunter Valley station
We will be utilising the "blue pack bags" on this trail so this afternoon you will be packing your gear into the blue bag and
Your suitcases are transported to the Lake Hawea Hotel to meet you at the end of your trail.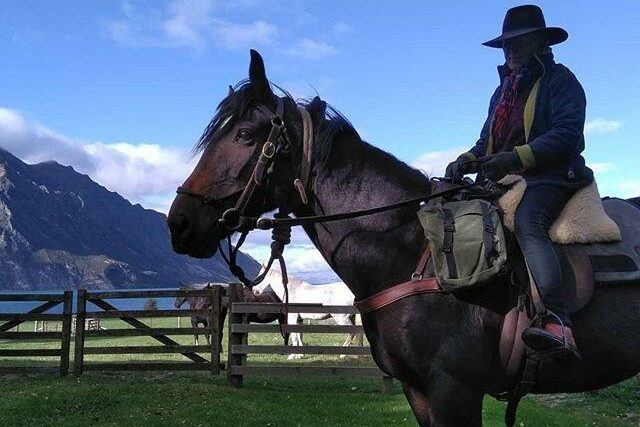 Goodbye to Hunter Valley Station, Hello Hunter Valley
This morning we enjoy a continental breakfast as we are up and on the move early.
Packing our saddle bags after a lovely breakfast, we say goodbye to Hunter
Valley Station quarters. Today we ride through native Beech forests and water falls.
Travelling alongside this imposingly beautiful lake side we head towards Hunter
Valley Boundary Hut.
Today we will see Hereford cattle and Merino sheep roaming, this is a working station and at times we enjoy seeing the shepherds mustering with their dogs and horses.
We will stop along the way for photo opportunities.
Tonight's accommodation has a long drop toilet, two separate bunk rooms, solar lighting and a wonderful horse paddock with stables and tack room. The hut enjoys spectacular views of
the Hunter Valley and delightful sense of isolation.
We will enjoy nibbles and dinner on the expansive decking with a stunning mountain backdrop.
There is an opportunity to sleep out under the stars tonight if you so wish.
We carry tents if riders want more privacy.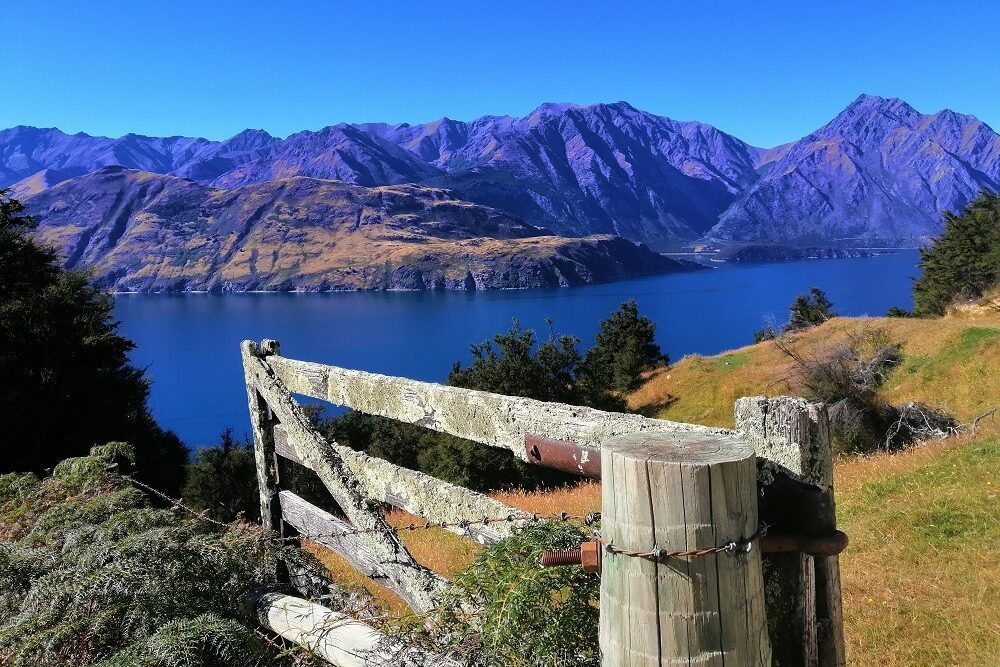 Day 3
6 hours riding
or
rest day
Lets Ride that Valley
Today you can choose what you would like to do

Enjoy a rest day at the hut reading your book or taking a walk
Ride deep into the Hunter Valley
Hunter River is a world renowned fly fishing river, catch and release
After we enjoy a hearty farmhouse breakfast and pack our lunches (those who are riding saddle up and ride deep into the Hunter Valley)
This trail meanders through an ice blue glacial river flanked by magnificent mountain ranges. Riders can enjoy seeing trout playing in the river or rare New Zealand Falcons flying high overhead. This is a ride you will not forget for a long time as the incredible isolation and beauty is overwhelming.
Returning to the Boundary hut for the evening where dinner has been cooking on the open fire all day.
We enjoy wine and nibbles before dinner on the deck (weather permitting).
There is an opportunity to sleep out under the stars here if you so desire.
There is no electricity in this hut but we do have limited solar lighting.
We enjoy an evening singing around the fire to the ukulele, telling stories of the trails and laughter.
Ride that River of Dreams
After breakfast, tucker boxes packed we head out to cross the crystal-clear Hunter river into the
Dingleburn station. We will spend the day feeling as though we are riding in a postcard as the views throughout the day are spectacular and day dreamy.
The lake acts as a mirror, reflecting the stunning views. We will be looking back across the lake at Hunter Valley Station and Lake Hawea that we rode around the previously.
Our accommodation for the evening is the Dingleburn shearers quarters, located in an amazing mountain setting. Dingleburn station is known for its production of some of the finest merino wool in the world.
Here we have hot showers, flushing toilets, a wonderful cook shop where we will enjoy a farm cooked meal and relaxing evening together.
Sustainable Station: This station is completely off grid and self-sufficient, electricity is generated by hydro power/ solar power and generator.
There is a washing machine at the station for those who wish to catch up on some washing.
We often enjoy watching station life, as shepherds muster sheep (often on horseback) with their dogs at this iconic station. The stock manager and owner of this station is Nikki Meads, who often drops in for a chat if she is not too busy.
It is wonderful opportunity to hear the stories about station life.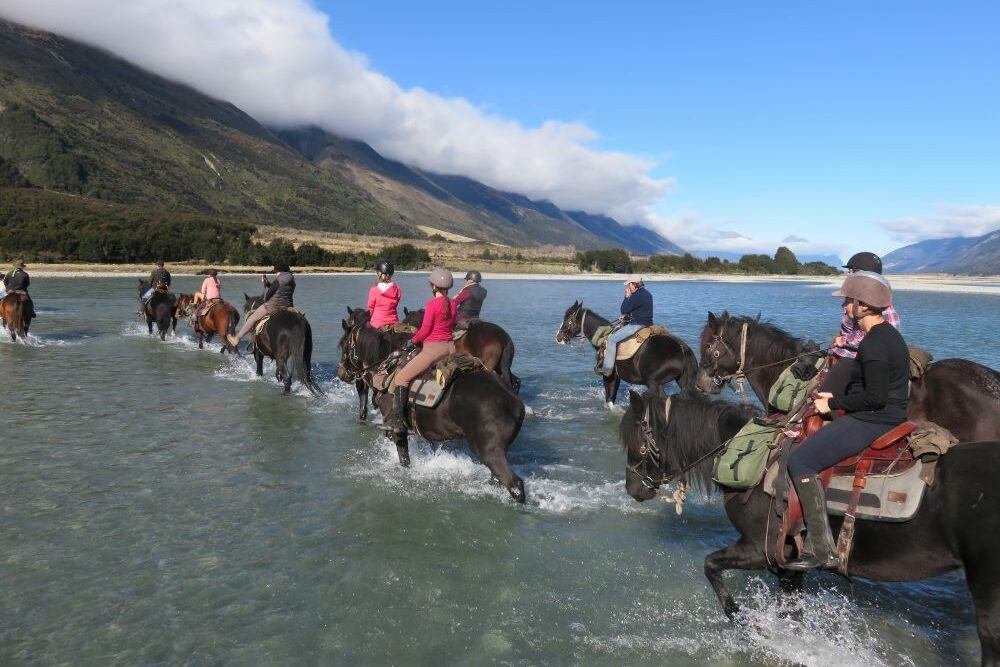 Number 8 Wire Kiwi Engineering, Riding the Bluff
This is a relaxing morning at the station, enjoying a full farmhouse breakfast in the cookhouse.
Today we ride out along the bluff towards our destination the Hawea Hotel. you will be amazed at the pioneering Kiwi ingenuity that constructed this access way into such a stunning and remote station. We will pass the waterfall that provides the hydro power for the station.
A wonderful picturesque gentle days riding.
En-route we will ride up onto the peninsular and look back up through the Hunter Valley.
Keep the camera handy as views of Mount Aspiring, Lake Hawea and the bluff will take your breath away.
Weather permitting; we enjoy lunch on the reserve at the base of the mountains.
Our Taxi meets us at Dingleburn Cattle yards. The horses have a night on the hay the humans are transported to the Lake Hawea Hotel for our nights' accommodation and evening meal. We arrive at the Hawea Hotel around 4pm.
There is a laundry at the hotel for those who wish to do some washing.
This Hotel overlooks Lake Hawea and we can enjoy the luxury of dinner looking out over the lake. Dinner is a set menu
(you will need to bring your wallet for alcohol which is not included)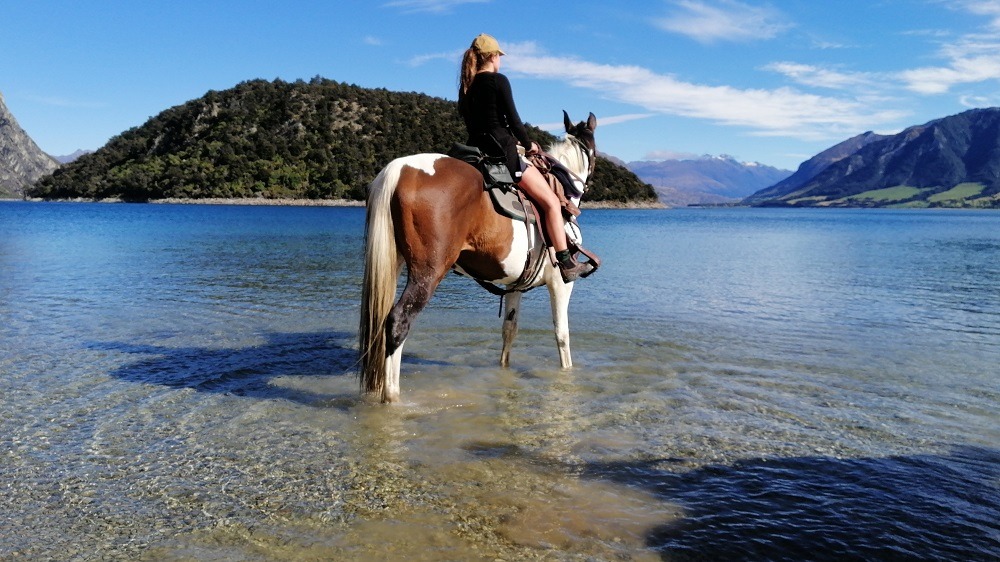 Wanaka Wander and Wine Tour
After breakfast, you will be transported to Wanaka by the Lake Hawea Hotel staff. Enjoy a relaxing morning exploring Wanaka township and the beautiful Wanaka lake, then we enjoy a Wanaka winery tour.
Our taxi will pick riders up in Wanaka 1:30pm at the information center.
Whilst you enjoy your relaxing day the horses are being transported into the Ahuriri Valley for the remainder of our trail.
The Birchwood Homestead is beautifully restored historic building. We enjoy soft beds, hot showers, lounge snug, washing machine, electric blankets, twin shared bedrooms, large farmhouse kitchen. A small independent cottage also houses 4 guests.
We will be staying here for the next four nights.
We enjoy a two course farmhouse cooked meal in the formal dining room of the beautiful Birchwood Station homestead.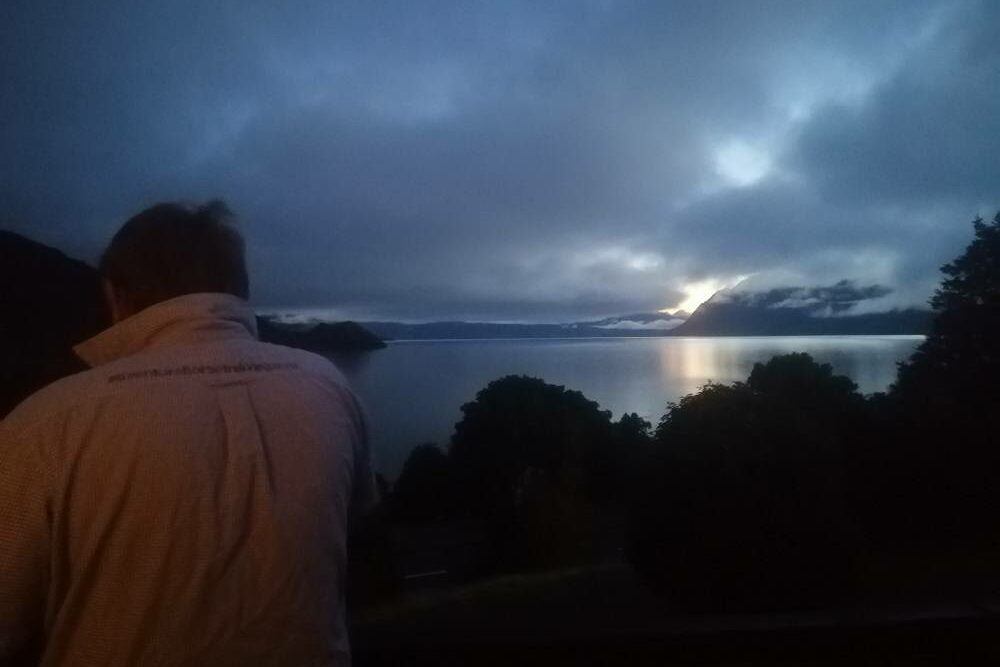 Tussock Laden Valley and Trout Filled Tarn
After breakfast, lunch boxes filled we saddle up and make our way down the valley to today's destination the green lake at 1200 meters above sea. This is a beautiful
crystal-clear tarn set in the heart of the mountains. Large trout cruise the edges of this wee tarn. There is a small bivi hut where we will enjoy our lunch
and hot drinks. We enjoy outstanding views of the snowy gorge and surrounding snow-capped mountain ranges.
After lunch we ride out of the mountains to the Ben Avon station road and back to the Birchwood Station homestead.
There are many different walkways in the Ahuriri along with great swimming holes.
Ahuriri is a world renowned fly fishing river (catch and release) you will need your NZ fish and game license.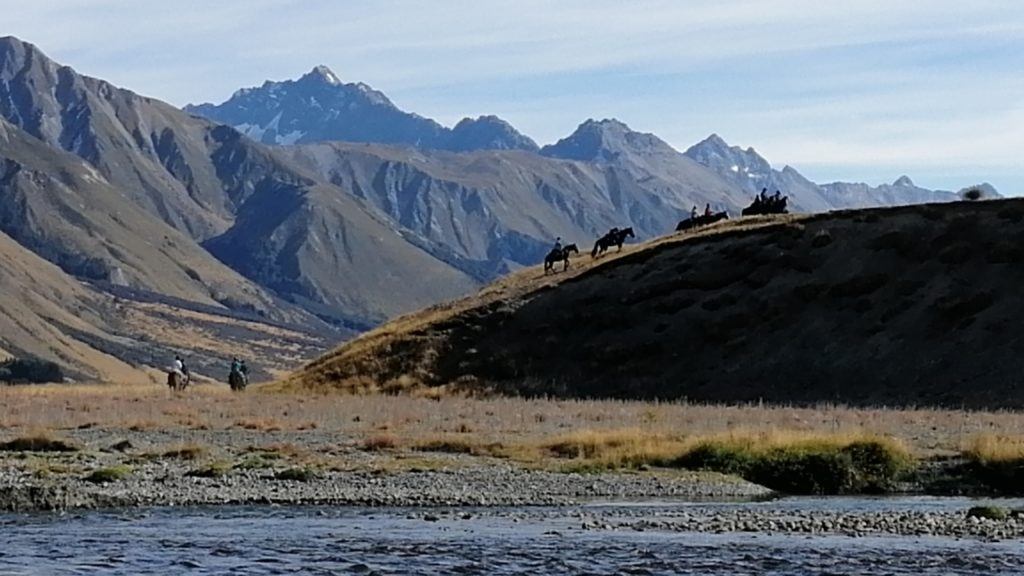 Explore the Gorge
Today's ride see's our adventure head deep into the magnificent Ahuriri Valley. The valley is filled with waterfalls and the glacial fed river tumbles its way over the river bed stones that the South
Island is so famous for.
This is an area where Department of Conservation have spent a great deal of time and money on the preservation of the Black Stilt. We will be sticking to the tracks to prevent any disturbance to these wonderful birds. DOC is doing such a wonderful job and the numbers of mating pairs has
increased significantly under their care.
After three and half hours we enjoy lunch at at the base of a gorge, those who wish to explore further can climb into the canyon it is spectacular.
We retrace our footsteps to the homestead; the view looking down the valley is so very different on the return journey in such imposing mountain country.
Our second evening at the homestead sees us enjoy a Kiwi barbecue in the garden with its natural landscape setting.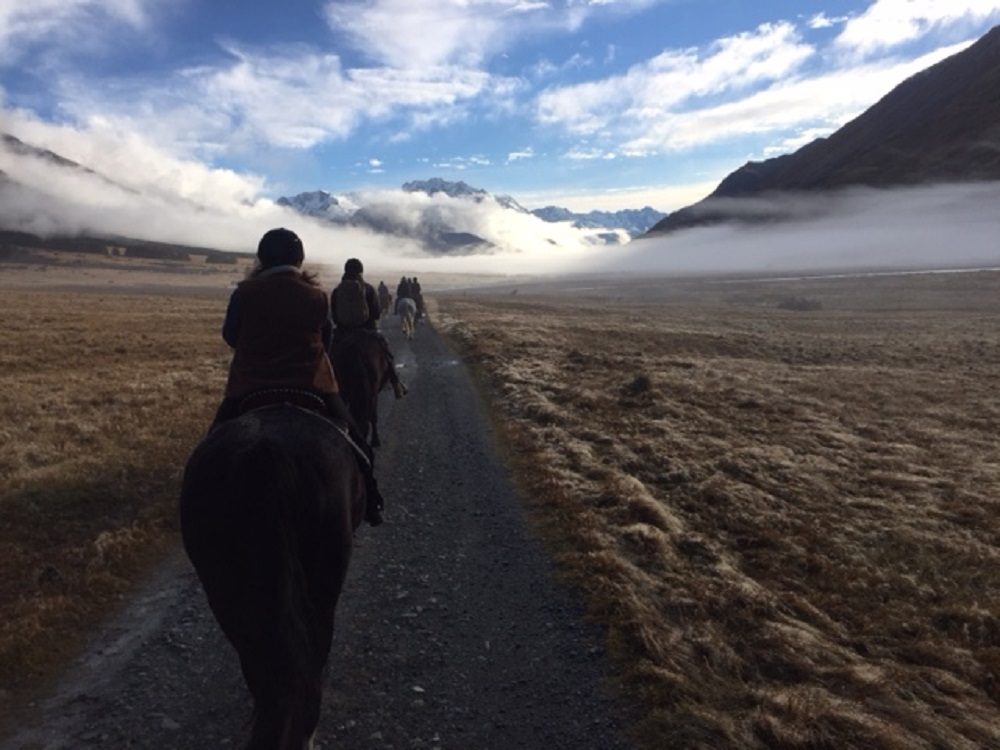 Summiting a Mountain on Horseback
After breakfast, lunches packed the horses are saddled cameras into the saddle bags, we are off on the first of our wonderful adventures into this picturesque
National park. The mountains flank our trail making us feel very small in comparison as we head into the valley following the meandering Ahuriri River. Meeting
the Dingleburn track we climb to the top of the Mnt Gladwish mountain range to a height of 1600 meters above sea, on an old pack trail. This is an
exhilarating ride through native bush and into the high golden tussock to the top of the ridge. At the mountain peak we look down to the West, the Dingleburn
River and to North East we see the headwaters of the Ahuriri River and the Barrier mountain ranges stretching out
before us. We enjoy lunch in this heady and breath-taking environment before heading back down the track following our footsteps to the homestead where hot
showers and warm fire await us. Back at the homestead the horses enjoy a beautiful grassy paddock right outside the homestead so we can watch them all
evening.
The humans enjoy a laid back evening, swimming, walking, relaxing and reading a book or chatting to friends made on the trail.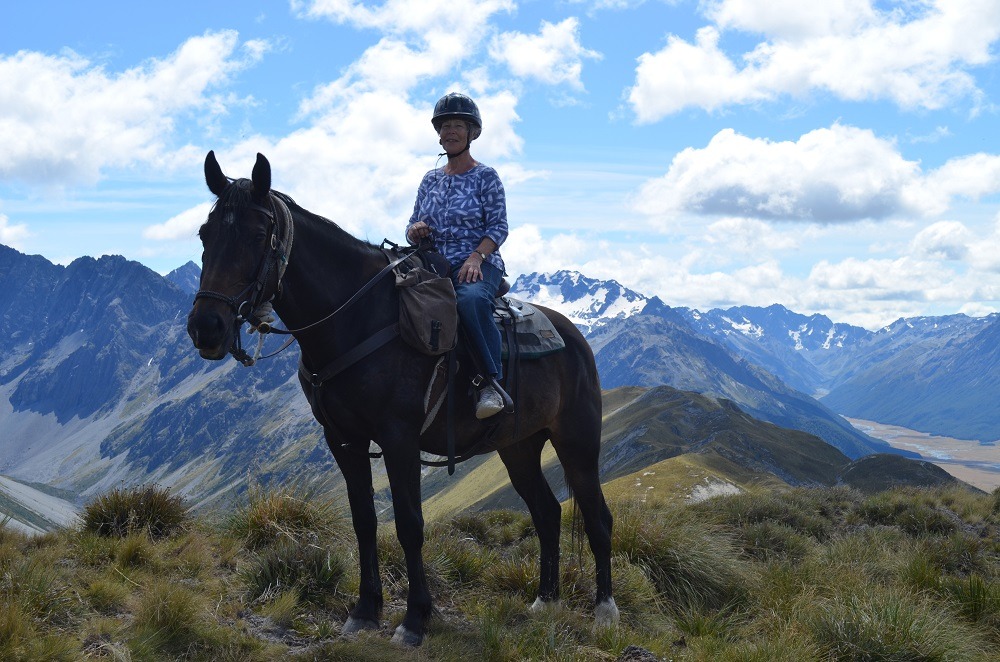 Saying Goodbye to the Mountains that have been our Home for 10 days/9 nights
After breakfast, our taxi drivers Mike and Hele will pick us up and deliver us back to Queenstown (airport or Hotel)
Hold the memories of the mountains forever in your heart.
Time to plan your next trail