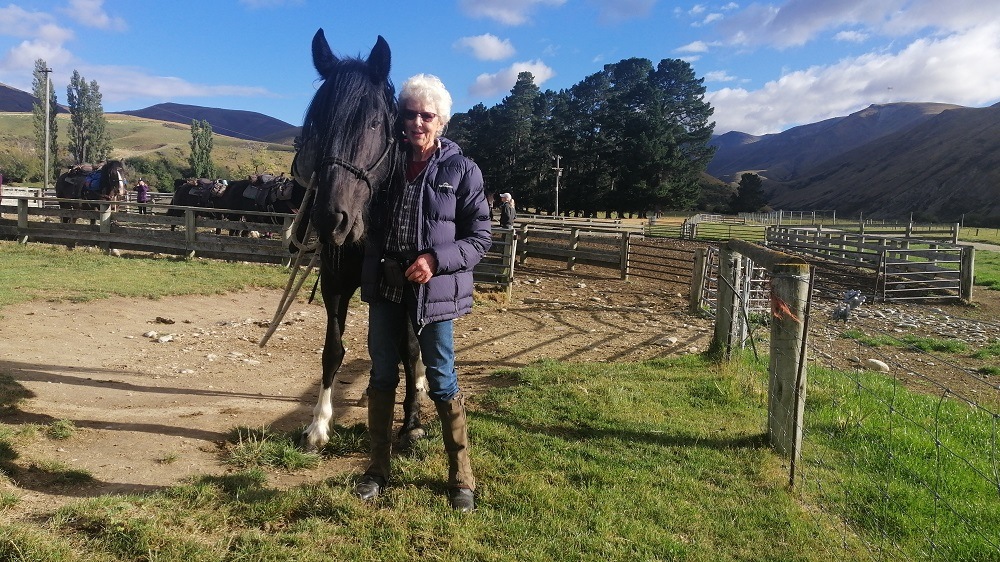 Adventure At Any Age
Inspirational Rider
At 101 years old, Connie Reeves was still riding her horse every day. She was a huge inspiration to many people. her health was great and her mind was sharp. someone once asked her what her secret to longevity was. she said:
"Well honey, you just don't let that rocking chair take over…you get up and go even if you don't want to"
National Cowgirl Hall of Fame
Reeves was the oldest living member of the National Cowgirl Hall of Fame, based in Texas.
"I think I'm the antique around here. I'm representing the past," she told the audience.
Riding Before Walking
Born in 1901, Reeves learnt to ride a horse before she learnt to walk.
She started work as an instructor in 1936, and went on to earn an unparalleled reputation among her thousands of students and peers.
Credit with heartfelt thanks: Women's Rights News 21st April 2013 and BBC News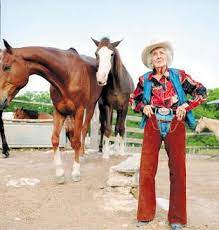 "Leave the wide open spaces and free fresh air to the West, where one can take an early morning gallop across dew-drenched fields, lie down to sleep beneath the star-twinkling sky, only to be awakened by the crowing of a lone rooster in the far distance."

Constance Reeves 102 year old cowgirl
"You just don't let that rocking chair take over. You get up and go even if you don't want to"

Constance Reeves 102 year old cowgirl
Our Own Inspirational Rider
Around 7 years ago we were fortunate enough that Di chose our company to celebrate a very important milestone birthday.
The moment we met her she stole a piece of our hearts. She may be a tiny Lady but that small package contains a mighty spirit.
Riding from Childhood
Just like Constance, Di has ridden horses since she was a wee girl. You don't have to spend too much time with her to realize her deep unending love for horses.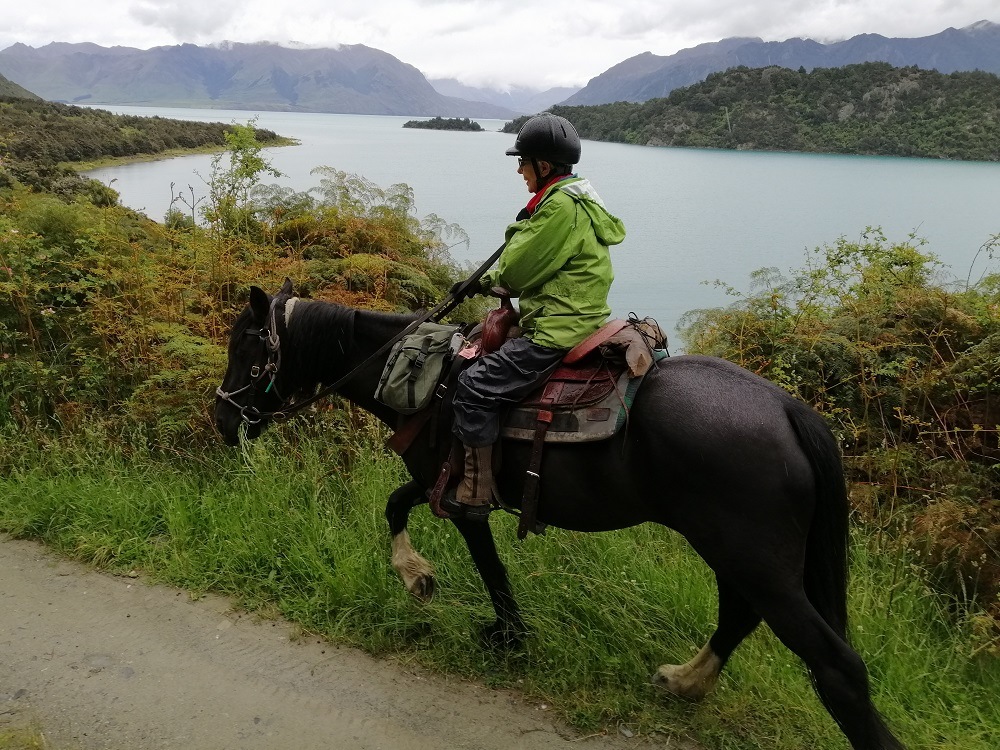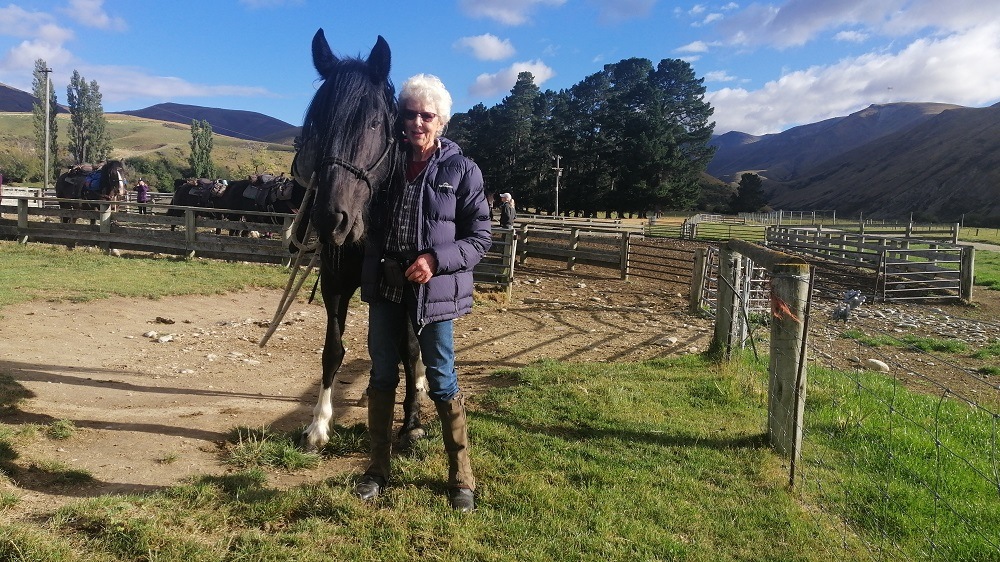 River Deep Mountain High
She has tackled each of the trails in her own amazing way.
She is a dab hand at packing the blue pack bag leaving other riders in her smoke.
Equip. with her bike pants and Miss Daisy hat she is high in that saddle and out there doing it.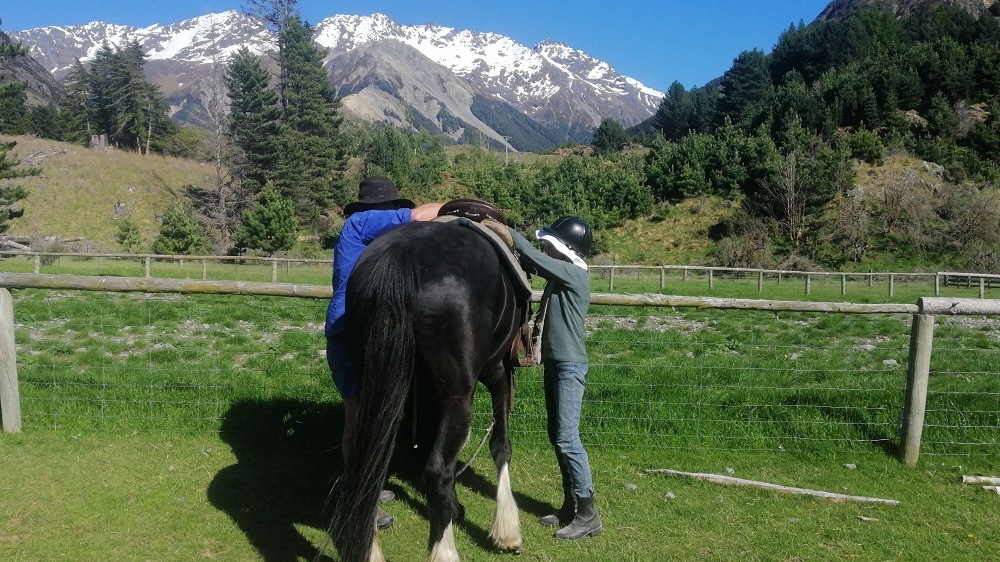 Independent to the core
This beautiful wee "pocket rocket" is fiercely independent, doing as much as she can herself.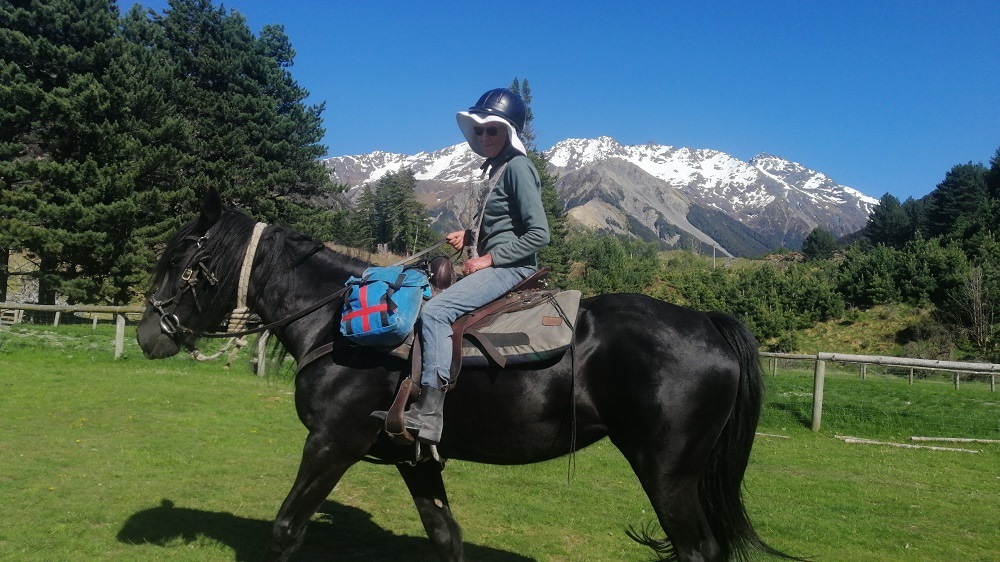 Watch Them Go
I just love this final photo I took of them on the last day of the Lake Ohau Luxury Trail. I managed to get a posed picture of all the other riders that day. Then, I have to run to keep up with Di and Thistle to quickly snap this action shot of them heading out for another wonderful day together.
The cheeky grin says it all, how I adore this amazing, inspirational Lady. I am ever grateful to the angels who guided her to us. We have shared so many wonderful times together and here's to many more.